Read what has been discussed at the MIT Platform Strategy Summit 2020 and learn more about the latest trends regarding Platform Talent, Experience Economy, Ecosystem Approaches and how corporates embrace the combination of physical-digital.
---
Intro
At the 8th July this years MIT Platform Strategy Summit took place – due to Corona as a virtual conference, allowing people from around the world to participate. Since 2012 this event is organized by the MIT Initiative on Digital Economy (IDE) and hosted by platform thought leaders Geoff Parker, Marshall van Alstyne and Peter Evans. It's not as big as the European Platform Economy Summit, but the aim is to bring together mostly American Executives to share latest thinking and experiences on building platforms. This year it featured topics like the war for talent from a platform owner perspective, insights in the strategies of Ping An as a meta-platform, the accelerated shift towards experience (ecosystem) economy and how incumbent businesses focus on building B2B platforms based on IoT capabilities. This article shares some thoughts exchanged during the event.
---
The War for

Platform Talent
Part of the opening keynote Peter Evans shared insights from his latest study on how platform companies are searching for platform talent. Based on this analysis of over 11.000 of job postings around the world, the analysis helps to understand which positions are required in a working platform team and which skills those roles have to bring to the table.

As platforms do not only foster interactions of the users, they also require a multi-disciplinary and cross-functional teams to work. As every business today, it requires talents from the business side and the technical side working hand-in-hand together – following the overall platform strategy.

As we have written in a previous post "Building a successful platform team" we showed (based on the analysis of Peter Evans) the 5 typical roles a platform team needs to assemble:

1) Platform Strategist
2) Platform Product Manager
3) Platform Data Manager
4) Ecosystem Manager
5) Platform Privacy & Governance Manager
The recommendations from Peter sum it up very well. Platforms are still a new topic in the business world and they require more training opportunities to build the required skills.

>> Please check our Training & Certification Programs for Executives and Platform Teams – also available as remote sessions <<
Impact of Covid-19 to Platform Economy
Of course, one of the biggest topics discussed was the impact of Covid-19 pandemic from a platform perspective and what could be learned. Especially because platform companies grew their market cap while incumbent & low-digital mature companies lost market cap.

Covid-19 had an impact to the supply and demand side at the same time, e.g. people stayed at home and so areas with usually a high frequency of people dried and businesses lost their customer base. Companies who were able to quickly change their business (agility) had a much better chance to survive.

The key learnings from the discussion:

1) Corporates with higher state digital maturity levels are much more flexible to react and change business models – and at the end survive or pivot into new fields. E.g. instead of waiting until the lockdown is over and people come back to your restaurants, change your restaurant into a food truck and go where the people are.

2) Companies who could move to a complete digital service business also could generate more revenues than before.

3) Platforms are great as they are designed to leverage resources outside of the company (see principle of "inverted firm") and so were much more flexible and agile to pivot into new revenue streams.
Siemens – Combining the physical & digital world
In the keynote by Dr. Roland Busch, the Deputy Chief Executive Officer and CTO of Siemens AG outlined the Industry 4.0 strategy of this traditional company. IoT will become a 11 Trillion Dollar business per year in 2025 – and B2B applications account for 70%.

The race is on and the competition very strong – ranging from traditional players (building strategic networks to expand offerings and enable end-to-end solutions), to tech companies (positioning themselves as digitalization partners) to consulting firms & systems integrators.

Siemens itself will focus on three major pillars – Industry, Infrastructure (Buildings etc.) and Mobility and will cover the whole stack from solutions towards hardware. And Platform-Ecosystems play a huge role within this strategy. Platforms will be important to integrate multiple services.

As an example he showcased Railigent, an open platform ecosystem integrating best-in class rail applications. The customers can then pull together the applications and business models they need – integrated under one roof.

Another example he shared was about the low-code platform Mendix. The core value proposition is that customers can build on this platforms the applications they want. The platform it self takes care to integrate solutions from their partners.
Ping An and how to build trust
In this fireside chat between Peter Evans and Jessica Tan, Group Co-CEO of Ping An, the focus was on such super-platforms or meta platforms and to understand their priorities and strategies. And Jessica Tan quickly outlined that her priority as a CEO is to integrate all the business units / smaller platforms into a seamless experience for the customers. And one critical component clueing everything together is Trust.

Jessica Tan referenced their latest push in healthcare and especially there, all activities have to designed to build up trust. E.g. when you as a platform orchestrate resources outside of your firm, you have to put in place the right mechanisms to check & control the quality of the work.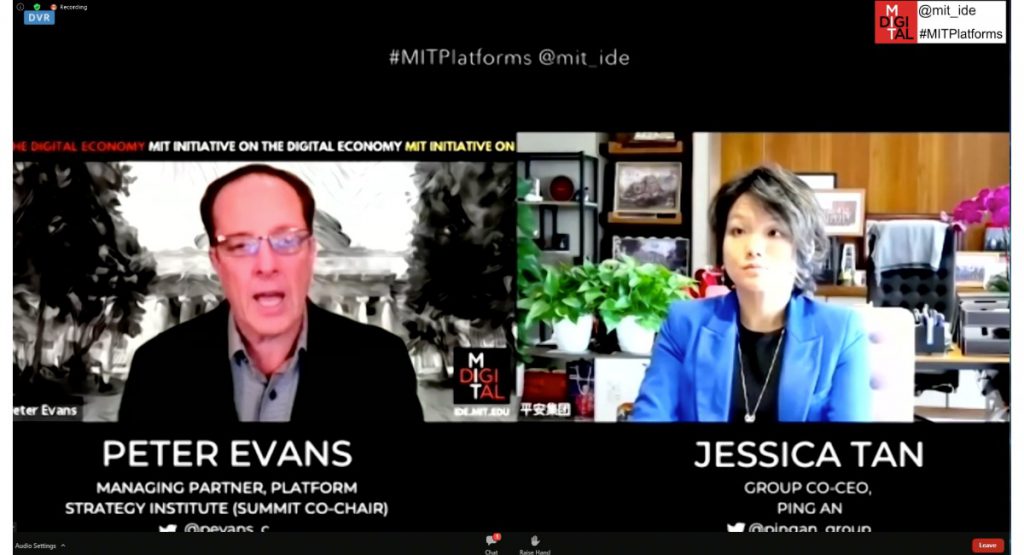 Experience Platforms
In a broader panel discussion with Laura Simpson who is the CEO and co-founder of https://sidedooraccess.com, Ronald van den Hoff is co-owner of the experience platform https://Seats2meet.com or Andrew Beranbom – Co-Founder of FirstTube Media – the focus was on the experience economy.

As you can witness more and more platforms in all kinds of industries, you have to think about to be different and what is your USP. One way is about providing a seamless experience for the consumers by bundling more and more services under one umbrella (interface). Or, the other way, you enable your producers to deliver better experiences with their services. So on both ends you have to improve the experience for key stakeholders of your platforms.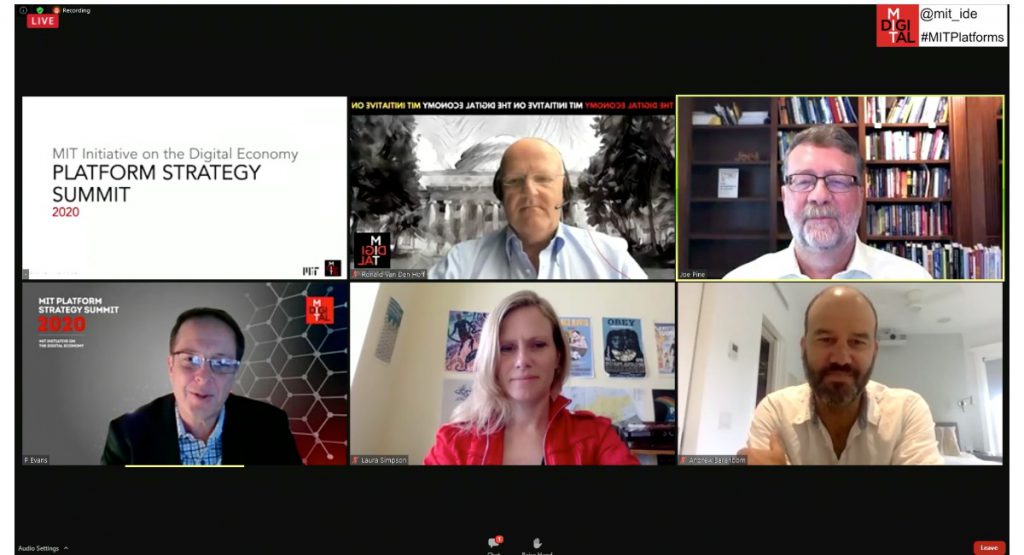 Super Apps / Meta-Platforms
Next-up was a discussion with Connie Chan from venture capitalist Andreesen-Horowitz. She outlined that the concept of super-apps / meta-platforms which bundle more and more services to provide a seamless experience is the next big evolution in the platform space. Especially in Asia this is the focus of the bigger platforms right now, Europe and America are behind. She referenced popular chat platforms like WeChat which allow users not only to chat, but also to book other services integrated into the platform via API.

With this platform strategy, WeChat starts to combine two major use cases of a platform: First is chat as a low value / high-frequency service. The second is integrating services like buying products as a high-value / low frequency service. The sum of both creates more and stronger network effects and better defensibility against other platforms.
Platform Venture Building
In one of my favorite sessions Scott Cook, who founded Intuit, shared insights from building multiple platform ventures over the last years.

1) Problem-Validation
Often overlooked, but you have to test your key assumptions right at the beginning to avoid high-costs of failures. Without the problem-validation you will not know if there is enough demand from the market.

2) Observe & Learn
Have a close look at your consumers and producers of your platform to learn as much as possible from them. Therefore go to them, contact them, talk to them.

3) Get Executive buy-in
Especially when you build ventures together with corporates. Those incumbent businesses have "anti-bodies" against change and bigger innovations. If you want to change the business model, the established organizations are very creative to find reasons to stick to the established world.
---
Summary
After all the years of a physical conference this new virtual format was very well organized and I loved it. It gave everybody around the world the chance to participate and gain great insights. The panel discussions where much butter then the key-notes as they provided more time to go into the details.

But in total the conference covered the main topics which are currently on-vogue looking at the state of the platform economy. War for talent, creating seamless experiences not just transactions, super-apps / ecosystems and the rise of B2B platforms as a combination of physical and digital worlds.
This article appeared first at www.platforminnovationkit.com.
---